Making sense of the FRIKIN data!
One of our dealers told us "this tool tells me more about my customers than my people can." We were inspired to make that better and more obvious to all. It forced us to take a deep look at what we were putting in front of you and we realized we weren't making it obvious; we were making things cute. It is time to be obvious.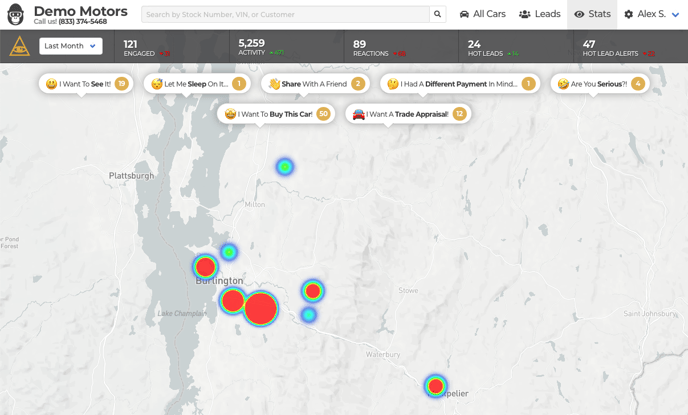 Phase 1 is today
The stats page is changing to focus on 5 key metrics:
Engaged - the number of people engaging with the tool
Activities - the number of interactions those people have with the tool
Reactions - the summation of all reactions to the numbers they've seen (clicks in the smiley area)
Hot Leads - when we know who they are from Magic Links and form submissions and they are engaged
Hot Lead Alerts - notifications sent to your CRM
📬 The illumination daily email report will be changing to reflect these data points too.
New Product naming - don't worry - nothing is changing for you.
SALESiQ is what you already have and is where illumiQUOTEs are made
WEBSITEiQ is how illumiQUOTEs are shown on websites
BDCiQ supports your BDC and/or sales floor by consistently finding the leads that are ready to engage within 10 days of the new lead coming in
BDCiQ+ takes the follow-up process out to 75 days for the smaller percentage of leads who don't engage as quickly
Phase 2 is in progress
Making better sense of what the customers are clicking on with visuals and English. It is our goal to make it stupid simple to translate all the clicks happening on a customer record.
When you know how to read the clicks customers are making you know EXACTLY what motivates them and that should make you a very dangerous dealer! Dangerous in a profitably good way - you will be able to work smarter 🧠
Phase 3 is also in progress
Easier ways to get to the good stuff. Sorting through the important data points, finding the right cars to put in front of the customer, and more integrations.