2019
We have some new goodies and improvements for you today. First off, you can print. I know, you are blown away with such an incredible feat of technology. Believe it or not one of the most challenging technical hurdles is making digital things into physical things.
You can now print the details of a quote. If you like the format, let me know because we built it in such a way that it is very flexible for the future. We have some ideas to make it cooler!
​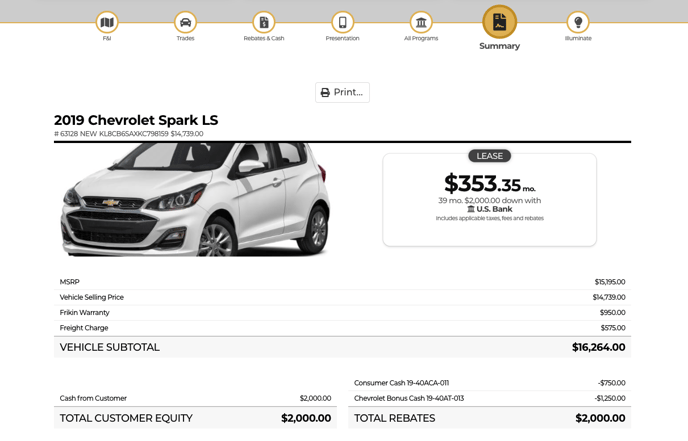 ​
What you print has also matched on your screen. The new "Contract Details" view is now called a "Summary" to decrease the consumer's expectations on your quotes. And we added more disclaimer language to give you even more room if you need to change the numbers when you're putting them into a contracting situation. We are calling the quote "an example" in the disclaimer language now. We are not lawyers, so we are not making any legal claims, but we do hope this helps you from being bound to any future user errors.
And lastly, on the summary screen, you can switch between the loan, lease, and cash option right there.
Go ahead and hit the print button to test drive it. It looks better if you deselect the print headers option on your computer.
Improvements and Bug fixes
Power search now has submit buttons at the top and button.
The trade entry area is more pronounced to help people know where to start.
Vehicle filters deselect when clicking the x again.
More email validation has been added to combat those terrible bots on the Internet.
The payment summary at the bottom of the page can cycle through payment types again
✈ What's in flight?
CRM integration testing has begun!
Setting more hooks for customers to reveal themselves and their intentions better.