Jan 2020
This is a BIGGIE with the potential to increase your lead volume from your website and your advertising.
To be clear: this will have NO IMPACT if you are only using illumiQUOTE for responding to internet leads or as a pencil tool on the floor. But, it might be worth expanding your footprint assuming this email sells you on that idea 😉
​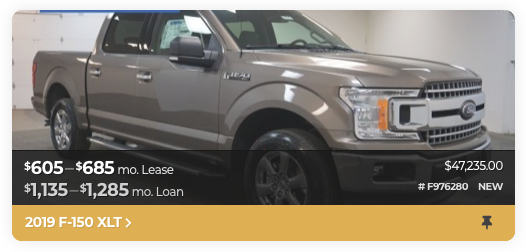 ​
What is it?
Anonymous customers (people you do not know) can now have a different experience than customers you do know. And it comes with more enticements for that unknown customer to step forward.
You can configure the unknown customer's experience by removing taxes and fees from the payments until someone reveals themself (submits a lead.) You can also range the payments. Instead of showing a payment of $289.13 you can configure a range to show something like $270 - $300 per month instead.
​

​
Why?
Lead capture reimagined. For 20 years we have been enticing customers to give us their information in exchange for an ePrice or Availability confirmation and those don't convert as many shoppers as we would like. Now, you have a whole new hook - "Get your out the door lease and loan payment with an out the door price." Personalize their shopping experience with transparency! How's that for a bunch of buzzwords?
​

​
What do you need to do?
You have the power! It is all in your hands in the Settings section. Under Quotes Settings, Banks, and Taxes you will find a new section to play with. And I do mean PLAY WITH! Test it. Measure it. Be a marketing analyst and raise your game. We just give you the toys to let your imaginations soar.
First and foremost: Do you want to do this? If no, don't do anything. If yes, there is one tiny little check box that changes your world and you can uncheck it. Currently it is checked for you.
​

​
One caveat, this unchecking will show payments without taxes and fees to all people on the "All Cars" or Vehicle Listings Page. And the processing of this will happen overnight. Unchecking the box will not have an immediate effect.
And then you can play with...
​

​
Payment Range Percent:
This is where you can say "I want to show a range of 20% from the lowest payment." This is the first thing to play with. If you have a lower-price point inventory like Kia for example, it make sense to do a larger percentage. If you have a higher price-price point inventory like Porsche it might be better to start with a tighter range like 10%. But it is all up to you and what you discover works best for your market.
Nearest Payment Round:
When you range payments you'll want to round the pennies up. You can chose the dollar amount you'd like to round up to. For example: a payment is $321.14 and you choose to round it to the nearest $5 multiple, that rounded payment will now be $325. And yes, you can round payments without ranging them.
PLAY PLAY PLAY!
Use the squeeze (also found in the same section) to give your visitors an appetizer before asking them to give their lead information for the full course meal. All of these things work together and can make for some interesting new insights.
​

​
Texas
We added a way for Texans to apply their differing VIT tax as well.
✈ In flight:
A way to show different prices to the unknown customer and known customer.
More usability updates for the customer.
More tax enhancements.
A new URL device to allow the marketers out there to do some incredibly deep tracking and A/B testing.
This Friday
If you ever wanted to learn more about how OEM programs are setup and carried-out Driven Data's Zach Hendrix will be the guest of honor on DealerRefresh's live broadcast this week. Zach spent a lifetime at Shift Digital and has shed new light on a lot of misconceptions I had about OEM mandates and all the fun of abiding by their wishes.
​