There is lot in this email, so I will start it off with a "table of contents" for you to jump to the parts that are most intriguing to you.
New Features
FREE: PAYMENTiQ puts illumiQUOTE payments in your website
PAYMENTiQ future pricing
PAYMENTiQ Sign-up
Magic Link creator for your CRM
Add your phone number for call tracking
Changes & Fixes
❗️LOGIN moved to the bottom
Turn off Used Car Leases
Trade-in on ADFs to your CRM
Driven Data integration enhancement
Fixed: Zip Code Error message
​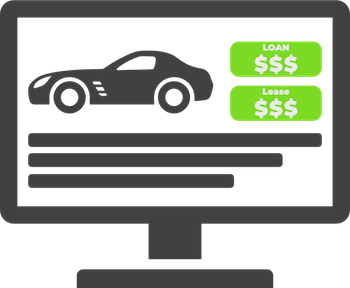 ​
Introducing PAYMENTiQ Beta
Embed payments directly into your dealership's website. Your customers will be more enticed to interact with payments, and now you can have those on your vehicle details pages and listings pages (listings pages require your website company being technologically capable of doing it).
This is FREE for you. And it is currently a BETA for the month of May.
Examples:
​

​
​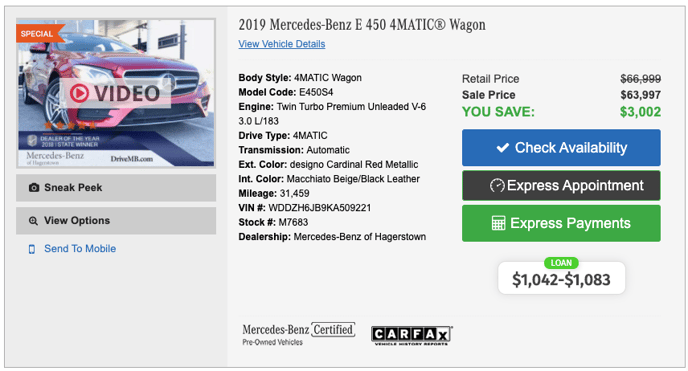 ​
PAYMENT iQ future pricing
👍 Free for you! We are giving PAYMENTiQ away to all current dealers and anyone who comes on board this month of May, 2020. If any of your sister stores in the group want it, let's get them on NOW! PAYMENTiQ will be $299 per month for anyone who buys illumiQUOTE after May 31st. Current client pricing will not change - that means you 😉
PAYMENT iQ beta signup
Want it? Of course you do!
https://frikintech.com/support/paymentiq-signup/
❗️Not all website providers can accept PAYMENTiQ. Older technology platforms like CDK/Sincro's may lack some features on vehicle listings page for example. Newer technology platforms like Dealer Venom's work better.
‼️ This is a beta program and will not be setup on a first come/first serve basis. The timing of setup will be based on the speed in which your website provider installs our script. Yes, we are throwing the blame over the fence.
Once you've signed up you can build the look of your buttons in the settings section of illumiQUOTE.
⚙️ Settings >> Rooftop Settings >> PAYMENTiQ
​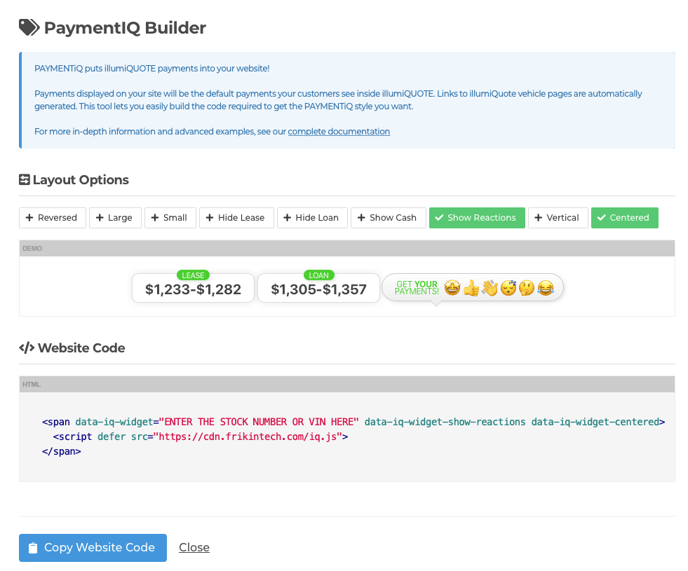 ​
Magic Link creator for you CRM
Many of you already have illumiQUOTE firing out of your CRM autoMagically. We're doing some things to beef it up!
Now you can build your own link and assign campaign codes to it for tracking. Yes! We will be adding that tracking to your illumiQUOTE stats page very soon.
Imagine building a link for an email blast to all your dead customers from 3 months ago and watching them come back to life.
⚙️ Settings >> Rooftop Settings >> Magic Linker
​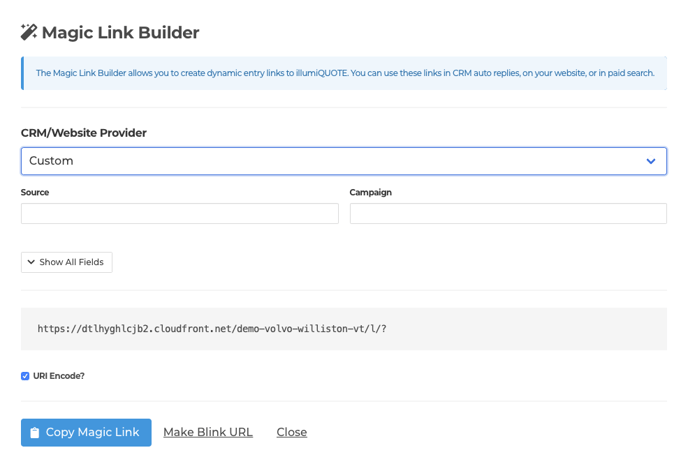 ​

And if your CRM isn't on this list, let us know. We can program it in with a tiny bit of help from you. Same with websites.
P.S. VinSolutions users, you need our special Chrome Plugin that fixes their bug allowing the magic link to work.
​

​
Add your Phone Number for Call Tracking
You can pop your phone number into illumiQUOTE now. We suggest creating a call tracking number to monitor the quality of the calls and how many you get.
​

​
Go to ⚙️ Settings >> Quote Settings, Banks, and Taxes >> scroll all the way down to Other Settings
​

​
❗️LOGIN MOVED to the bottom
You requested and we finally did it. Sorry it took so long. Now your customers don't have to see DEALER LOGIN at the top of illumiQUOTE. Be sure to tell your people to scroll to the bottom of any page to find it.
More coming on this front to make things easier for you and your coworkers.
​

​
Used Car Leases - turn them off
And we are still listening. You can turn off lease payments from used cars if you're not doing them.
Go to ⚙️ Settings >> Quote Settings, Banks, and Taxes >> scroll all the way down to Other Settings
​

​

If you uncheck the button today the used car leases will be gone tomorrow. While you're there add a phone number.
More Changes & Fixes
We added more trade-in information to the ADFs that go to your CRM.
Driven Data advertising stores now have the lowest payment in their feed from illumiQUOTE to Driven Data. This means the default payment will be overridden by the lessor payment if applicable. Cheaper payments in advertisements = a good thing, right?
Fixed that pesky zip code error you get when inputting a stock number or VIN into the search bar. This was happening when a car did not have any programs because it was either sold, just came into inventory, or hadn't been pricing in the inventory feed yet.