Nov 2019
I have a lot to share with you today!
We have partnered with Driven Data and you can read the press release about it here: Get Lucky with FT & DD. Driven Data has been in the analytics business combining CRM, DMS, inventory, and website stats for years. The insights they have provided are eye-opening to say the least. After watching customers move through their life with dealers, they decided it was time to do a better job with digital marketing.
​

​
Driven Data reduces ad spend waste and enhances the quality of an ad click. FRIKINtech is the conversion spot. Together we provide 100% relevant ads that are timed to when the customer is most ready to receive them. Paid search (PPC/SEM), display and retargeting, along with Facebook are the primary spots at the moment.
DD/FT partnership results
We have done months of testing and our first dealers just saw a 19% increase in first party leads with a 17% improvement on selling them in October. Rest assured, there is MORE cool stuff to come!
Want to get in on the action? Just respond to this email.
🍋 Squeezing the anonymous
​

​
With so many of you putting illumiQUOTE on your website we will continue to enhance the experience for you and your customers. In this case, we're enhancing the experience for you. You can now set the number of clicks an anonymous visitor can make before getting hit with a message to submit a lead form (the squeeze). You can set this to 0 clicks and squeeze everyone. Or set it to 5 billion clicks and squeeze no one. It is 100% configurable which means it is 100% testable! Have fun squeezing.
Oh! The customers in illumiQUOTE that received a quote from you directly or through the magical CRM automation will not be squeezed.
To set this up, go to Settings >>
​

​
And scroll all the way down.
Stats Page Updates
​

​
We changed the look and feel of the stats on the stats page to be more inline with reactions. And yes, that means you can now see the count of reactions. We removed some items too. If you're missing them just scream at us and call us bad names. This was a last minute addition, so we can bake it a little more if you're really upset.
Rate Markets
I'm looking at you Honda dealers in Georgia selling cars into Florida.
​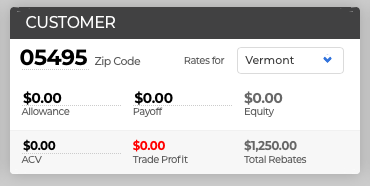 ​
If you are working with lenders that tie their rates to a specific location we have your back! You can now set the customer's zip code to get the taxes and applicable incentives, then choose a different state if the lender ties their rates to it. In most cases, this will not be necessary. But it is cool that you can if the need comes up.
✈ In flight:
Remove taxes and fees from the inventory while giving the customer a "hook" to get their out the door payment/price after submitting a lead form.
Inventory data transition to DataOne for better inventory matching.
RESPONSEiQ is in Beta! We will be able to handle ALL of your initial lead response directly from your CRM while stopping the clock and making sure every lead receives a quote and multiple phone calls.

I will be at the AAAS conference next week. If you're there, let's connect. Be sure to hit the Tuesday at 3:00 PM session:
​