2019
There is a lot to go over on this one. I don't know what part is more exciting, so I'll do this alphabetically.
CRM Integration V1
We can now keep your CRM history up-to-date with things your customer does in illumiQUOTE. When a quote is opened, accepted, countered, etc. your CRM will be notified of the engagement.
This is also a nice way to make sure customer activities are being assigned to the right person in your CRM. We are enhancing this further… stay tuned for more.
How do you get your CRM integrated with illumiQUOTE? Chat us, email us, call us - pick your poison. support@frikintech.com will get you straight to the guy who is managing the list. Tell us what CRM you use and the email address you receive leads at.
Drill Down Stats
On the Stats page you can now click on Views, Accepted, and Countered to see the corresponding illuminations. Any stat box with a magnifying glass can be clicked.
​
​
Heat Map
Oh yeah. This is sweet! The stats page now has a map on it. It is real-time and it reflects the illuminations happening. You can now see where your customers are playing based on zip code. When they change the zip code we will light-up that part of the map and color the "heat" based on how much clicking is happening there. The more you use illumiQUOTE, the more your map will grow. And we will be introducing more ways to entice customers to change their zip code.
​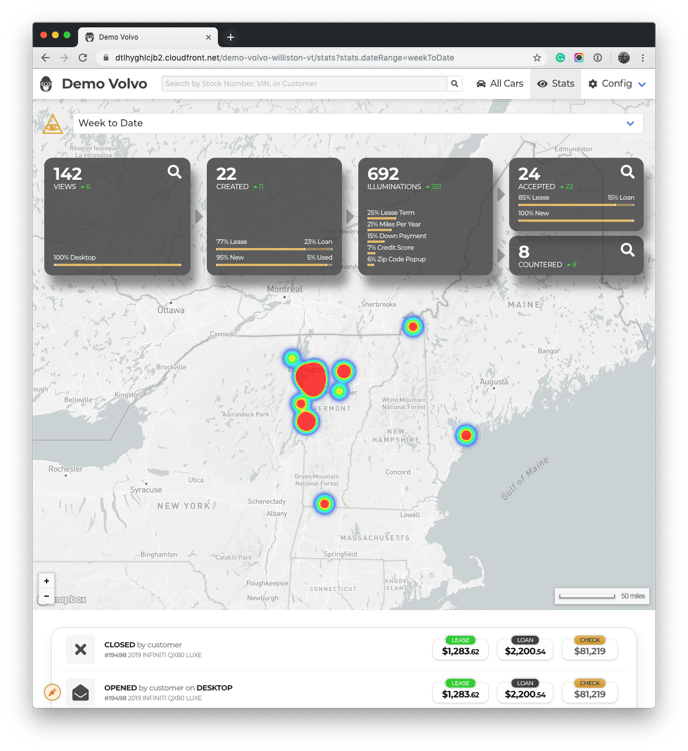 ​
View as Customer
You can now see what the customers sees on a vehicle details page. At the top in the images area is a new button called "Customer View" and will switch to "Dealer View" to get you out. You're a dealer; not a civilian right.
​

​
Improvements and Bug fixes
Speed. Always more speed. Specifically on the stats page.
In states with Use Tax that is now shown on the Summary view and print outs.
Removed Sum of Payments from Summary and print views.
Behind the scenes we are tracking who is creating the quote and will expose more of that in future releases
✈ What's in flight?
CRM integration V2 will do some neat things to automagically embed quotes in your emails without you needing to do a thing
Hooks for more zip code entry by the customer
Removing the red thumb down and creating a hook to get customers to tell us what payment they really want more often