July 2020
The DUH release
Have you ever read the notes about some new feature or fix on one of your apps and thought "duuuuh - why didn't it do that before?"
Well… here we go...
Better Call to Action on the Squeeze 🍋
​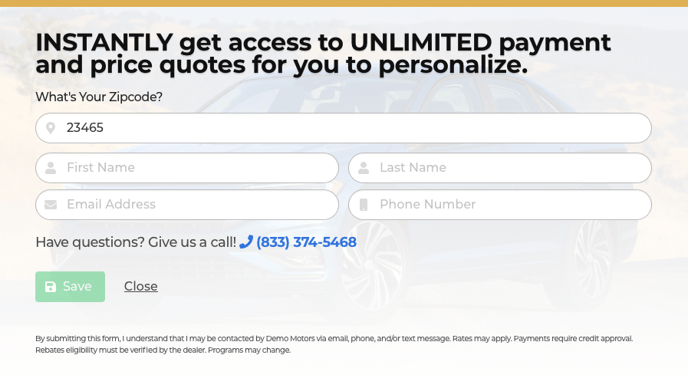 ​
"INSTANTLY get access to UNLIMITED payment and price quotes for you to personalize."
This message will be shown when someone hits the click quota you set for the customers you don't know yet (off your website & advertising for example).
💡a few dealers are discovering the path to getting more leads is by showing payments with all taxes and fees included to everyone, but setting a squeeze factor between 5 and 8 clicks. Get them hooked on the transparency!
Trade & Rebates Persisting
Finally! When someone enters a trade, that trade will be applied to every VDP they open thereafter. This will also apply to categorical rebates like Military, College grad, Loyalty, etc. Those rebates will be applied appropriately for the type of financing and stacking as necessary for that particular car they're looking at.
😎 This will also apply for people who have not made themselves known to you yet. The trade and rebate categories will attach to their browser and device, so every time they come back, they'll still see their trade and the rebates they selected - cool!
You can set the Listings Page sort now
🗣 Hey used car dealers who don't offer leases
On the vehicle listing pages you can select the first option for how your cars are sorted.
​

​

Click your name >> Select Settings >> Under "Quote Settings, Banks, and Taxes" click All Vehicles >> Default All Cars Sort
🇺🇸 Happy July 4th
We are hammering away on some MASSIVE updates that you'll begin to see in July. And by MASSIVE, I really mean badass, killer, amazing… and dare I say: life-altering. I'm crazy excited!
Have a profitable 4th and don't forget to have some fun too 🌭 🍔 🎆